Include Pinterest in Your Social Strategy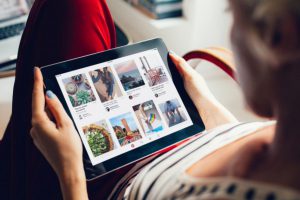 Social media has become a staple marketing tool for today's hospitality industry. Getting "likes" on Facebook and "followers" on Twitter are important objectives to increasing brand awareness. Other platforms are often overlooked and underutilized in brand awareness campaigns. Pinterest offers hotels several opportunities to increase brand awareness. According to researchers, there are 54.6 million active users on Pinterest. This number is forecasted to grow to 66.6 million by 2020. Clearly, this often-overlooked tool is a diamond among the rocks.
Creating "boards" is a wonderful way to showcase the hotel. Create separate specific boards to highlight the hotel's accommodations, amenities, restaurants, outlets, services, meetings, and events. Branch out to offer a "Neighborhood" or "Local Attractions" board for guests to discover exciting things they can see and do while at the hotel.  It is a sustainable, easy way to focus your audience on the hotel's benefits.  Additionally, the link can be sent from the sales team to potential clients to entice them to book meetings and events. Pinterest is the perfect platform for hotels to utilize as online brochures.
Pinterest "Pins" allow your audience to save and share hotel image content with a click. Past, current, and future guests can pin to their Pinterest account or quickly share, with friends, images from any of the created boards. Platform search features allow audiences to search keywords to find the hotel images and allow for a wider audience reach.  Also, collaboration boards are an innovative idea for local establishments to support each other's services.
Like Twitter, Hashtags offer Pinterest users a quick way to group topics and gather information about their interests. Attaching the strongest most appropriate hashtag to an image will increase its reach. Be sure to use these hashtags wisely. While it is wonderful to be seen by billions, remember, less is more when you are looking to target an audience.
According to Pinterest, 80% of users access Pinterest through mobile devices. Though mobile is clearly the top choice in access, this platform can also be utilized on tablets, laptops, and desktops allowing users to share the images no matter where are surfing the web.
The addition of promoted pins, Pinterest's form of advertising, allows hotels to target their interested audience. Promoted pins make it easy to reach thousands and helps the brand images to be shared with measurable results. How this works is simple. When someone saves a promoted pin, their connections will see that pin in their feeds well. This drives additional revenue and engages new people to join your audience. Promoted pins last forever, supporting your goal and growing your targeted audience.
From dedicated boards to advertising that targets and engages the hotel's audience, Pinterest has many exciting features. With monthly analytics to track, measure, and analyze this platform's success, this tool is essential to any hotel's social media marketing toolkit.
---
About the Author
Lorie Towsley
Lorie Towsley is the Social Media Strategist for Clairvoyix, LLC, a Las Vegas-based marketing automation company focused on the travel and leisure market. Lorie's 15+ years of social media marketing covers many industries including hospitality. Lorie holds a BA in Business Marketing from Western Governor's University.