6 Ways to Capture Guest Surveys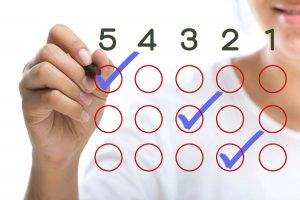 Email surveys are a great way to get a guest's feedback after their stay. Positive responses are always welcomed, but genuine responses are what is essential for the hotel to make long-lasting positive changes. Choosing the right type of survey question is the key. So, do you choose open or closed-ended questions? Both paths can lead to success if you follow a few best practices.
Open-ended survey questions are often less restrictive, but the response is more difficult to summarize. When used in the right context and phrased correctly these types of survey questions give the hotel the personalized guest data they need to improve the overall guest experience.
#1 When to Best Utilize Open-Ended Questions
These types of questions allow for multiple answers and provide personal insight into the guest's experience.
For example: "What would you like to see improved for your next visit?", "Why did you select this property for your stay?", "Was there anyone that made your stay more enjoyable?".
#2 Be Precise with the Question You Ask
Sometimes surveys attempt to get feedback on more than one issue at a time. These types of questions attempt to steer a respondent toward ultimately leaving a positive response that may not assist in improving the guest experience at the property.
For example: "We have three award-winning restaurants on our property, which location did you dine and what was your experience?", "Our renown spa has many massage packages to choose, tell us the one you like the best".
#3 Swaying the Answer
Many survey questions are ordered in such a way as to deliberately bias the responses by planting an idea in an earlier question that will sway people's thoughts in a later question. These types of questions are "heavy front loaded" questions. Pumping up the respondent's outlook on the item being surveyed to produce a positive answer.
For example: "This brand hotel leads the charge in eco-travel and has lowered its carbon footprint by 10% in the past two years, did you enjoy our sustainable in-room amenities?', "Our full-service luxury hotel caters to those that enjoy being pampered, did you enjoy your spa experience?'.
Closed-Ended Question often provides response data that is easy to summarize, however, great care should be taken to include all the reasonable options that are possible to achieve the respondent's genuine answer.
#1 Choice Options
Close-ended surveys must offer an option for respondents that don't fit in the answers provided. In case an option is overlooked, including "Not Sure" or "Other_____" to the survey's response options will ensure a more genuine response by allowing respondents to not be boxed into an answer they don't believe is true.
#2 "Top-Heavy" Answers
Be sure the answers are not top-heavy with three favorable options vs. two unfavorable options. If someone feels somewhat neutral, they may opt for the middle choice (i.e. "I like it") and the survey response will be ingenuine and not provide the hotel the feedback they require.
#3 Question Should Be Worded More Neutrally
Leading "Yes" or "No" questions will lead to ingenuine responses. Questions are often worded to elicit the response the surveyor wants to obtain from the respondent. These type of wording puts ideas in guest's heads, urging them to report a particular opinion.
Guest survey questions should be carefully designed to elicit an honest response from guest so that the property can analyze the data to improve the guest experience. Questions should not deliberately influence the responses, they should not be confusing or complicated, and should not be "top-heavy" to sway a positive response. Guest surveys, when designed effectively, offer insight into the guest's experiences and can be a useful tool in improving the hotel's service.
---
About the Author
Lorie Towsley
Lorie Towsley is the Social Media Strategist for Clairvoyix, LLC, a Las Vegas-based marketing automation company focused on the travel and leisure market. Lorie's 15+ years of social media marketing covers many industries including hospitality. Lorie holds a BA in Business Marketing from Western Governor's University.