Clairvoyix Awarded Top Hospitality CRM Company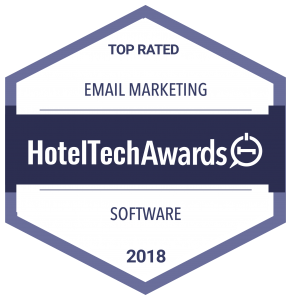 Hotel Tech Report has named Clairvoyix 2018's top-rated email marketing and CRM (customer relationship management) company based on data from thousands of hoteliers in over 40 countries around the world.
For the last 3 months, more than 100 of the most innovative technology companies have competed for a chance to win this prestigious title. The HotelTechAwards platform leverages real customer data to determine best of breed products that help hoteliers grow their bottom lines.
"Email marketing is quickly becoming thought of as one of hoteliers' top weapons to fight against the OTAs (online travel agencies)," said Jordan Hollander of Hotel Tech Report. "Email databases are effectively like loyalty programs, so working with a provider who can help you clean, analyze and act on data is critical to generating significant revenue from the channel. As GDPR (General Protection Regulation) takes effect, working with best-in-class providers like Clairvoyix becomes more critical than ever."
"What makes this award special is that our customers voted us to the top," said
Mike Schmitt
, CEO at Clairvoyix. "There is an abundance of CRM companies in the hospitality marketplace; however, our customers appreciate not only our revenue generating marketing technology and our expertise in hospitality direct marketing, but the fact we take data security and guest privacy very seriously. Client data is stored in one of the most secure data centers in the world, the Switch Tier 5 Platinum Data Center."
The Clairvoyix platform is a cloud-deployed application and is a packaged system never requiring expensive and time-consuming design and development. It offers a full range of traditional and digital direct marketing services, with audience segmentation and personalization across all important marketing channels. Most importantly, the Clairvoyix Knowledge Factory ensures that client data is cleansed, deduplicated and matched to the proper guest.
The Clairvoyix system consistently ranks high with clients due to its ability to measure campaign results from actual guest folios, the true measure of campaign effectiveness.
"Our clients reported to HotelTechAwards that we delivered where it mattered, ranking us 14 percent above the category average for ROI," Schmitt said. "We are very proud of this award, especially knowing that we are generating significant revenue for our client properties."